Special Offers and Late Deals
---

LAST MINUTE PLACES

Course

Places left

Cost

Book

Advanced White Water Safety and Training on 6,7 November 2017

2

£160

Advanced White Water Kayak Leader Training on 8,9,10 November 2017

1

£240

White Water Kayak Leader Assessment on 18,19 November 2017

2

£165

MWE Canoe Assessment on 9,10 December 2017

1

£180
Which Dagger creek boat would fit you?
Try for yourself, free!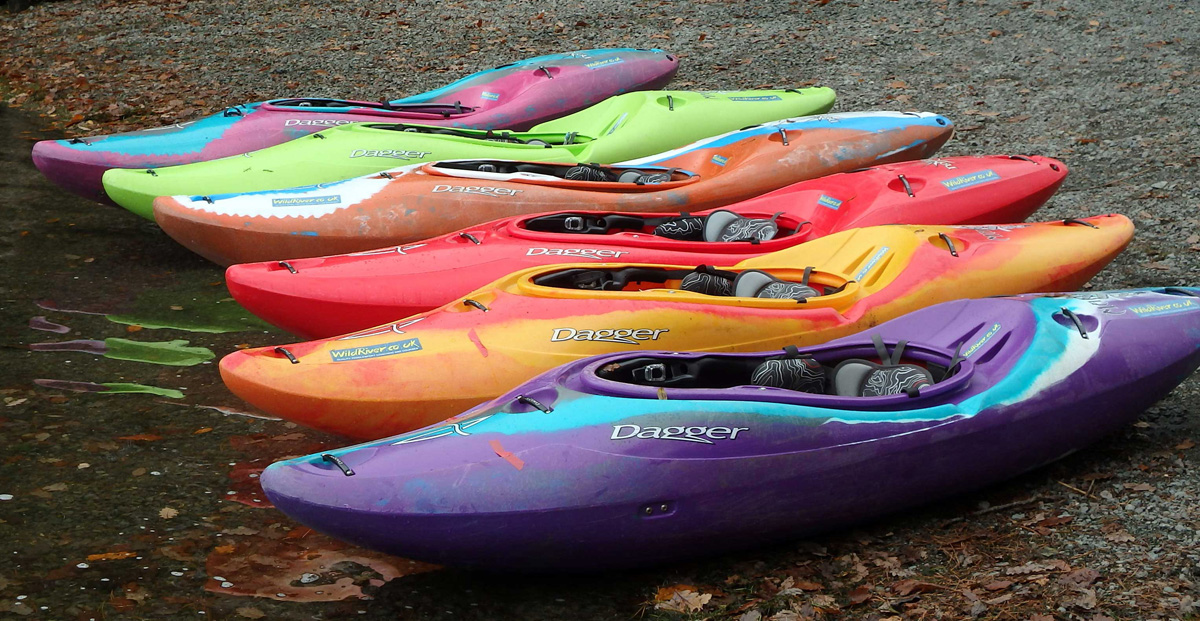 We understand that boat fitting is crucial to advanced performance. Wild River now has a fleet of the latest models of Dagger white water creek boats, in all sizes. Fitted with the top specification Contour Ergo Creek outfitting, we can find the right boat for you.
Join one of our 2 or 3 Star white water courses or white water kayak leader training courses and get the opportunity to try for yourself, free of charge. Boats must be booked at the time of payment of course fees and are available on a first come, first served basis.
Terms and conditions
Although we do expect the boats to be used for their purpose and therefore some damage can occur, we would ask that you take great care and look after the boats you use. Treat the boat as if it was your own.
We ask that you:
Make sure airbags are fully inflated before use.
Avoid dragging the boat over sharp rocks.
Think about white water moves that have a high chance of impacts.
Report any damage as soon as possible.
Should boats get damaged due to negligence by the user we would expect the user to pay for repair or replacement.
Boats are allotted on a first come basis according to the payment date of the course fees. If you want to be sure of paddling a specific boat then full payment of course fees will guarantee this.
PLACES ON 3 STAR COURSES FOR JUST £100!
Book onto a Level 1 or 2 Coach Training course plus a 3 Star and get a place on the 3 Star course for just £100.
MAKE YOUR OWN COURSE

Hire a Wild River coach for £250 per day for upto 4 people.
PACKAGE DEALS

Advanced White Water Safety and Rescue Training + Advanced White Water Kayak Leader Training (3 day)

£350 per person (normally £400)

Advanced White Water Safety and Rescue Training + Advanced White Water Kayak Leader Training (2 day)

£280 per person (normally £320)

Advanced White Water Kayak Leader Refresher Training (3 day) + Advanced White Water Kayak Leader Assessment

£365 per person (normally £420)

Advanced White Water Kayak Leader Refresher Training (2 day) + Advanced White Water Kayak Leader Assessment

£295 per person (normally £340)

Advanced White Water Safety and Rescue Training + Advanced White Water Kayak Leader Refresher Training (3 day) + Advanced White Water Kayak Leader Assessment

£505 per person (normally £580)

Advanced White Water Safety and Rescue Training + Advanced White Water Kayak Leader Refresher Training (2 day) + Advanced White Water Kayak Leader Assessment

£435 per person (normally £500)

Canoe Leader Refresher Training (3 day) + Canoe Leader Assessment

£350 per person (normally £405)

White Water Kayak Leader Refresher Training (3 day) + White Water Kayak Leader Assessment

£350 per person (normally £405)

White Water Kayak Leader Refresher Training (2 day) + White Water Kayak Leader Assessment

£285 per person (normally £325)